Milk Thistle Extract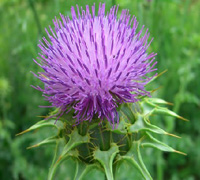 Plant Origin: Silybum marianum
Used Part: Seed
Active Ingredient: Silymarin & Silybin
Specification:
(1) Silymarin 80%UV, Silybin and Iso Silybin ≥30 %HPLC
(2) Total Flavone 80%-15% UV
(3) Silybin 85%-99% HPLC
Appearance: Light yellow fine powder
Functions:
A. Improving the function of liver.
B. Promoting biliation and diminishing liver inflammation.
C. Protect the liver from the damage of alcohol, chemical toxicant, drug.
D. It has the function of anti-radiation, arteriosclerosis preventing and skin-aging delaying.